Fit over 40 Mom of four Theresa, also works full time and runs a church with her husband on the weekends! This lady is BUSY!! But at 42, she was miserable with how she felt and looked. She knew it was time for a change! After seeing the success of Hitch Fit online client Tia, and hearing of us from Truth Talks host Mitch Harlan, she decided Hitch Fit was what she was looking for. She was right! In 12 weeks, she has lost 22 pounds of fat, and has regained strength and excitement for living a healthy life! Her journey has not been without it's challenges, but the benefits she has gained so far are well worth every choice to get to where she is today. Congratulations Theresa!
Theresa's Fit over 40 Before and After Weight Loss Stats: 
Starting weight: 189
Ending weight: 167
Starting body fat: 45.29%
Ending body fat: 31.75%
Theresa's Before and After Fit over 40 Weight Loss Photos: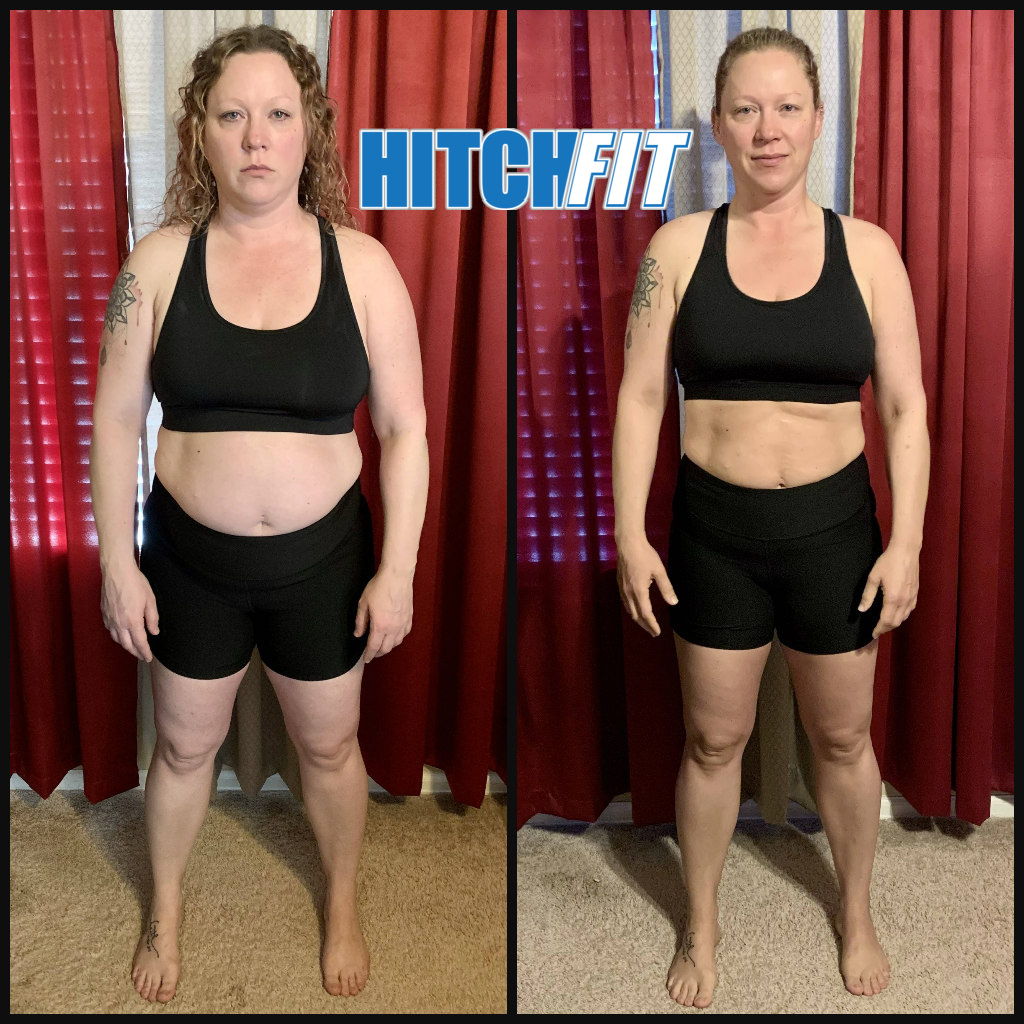 Theresa's Fit over 40 Transformation Story and Hitch Fit Online Training Review: 
How to get fit over 40
Why I did this…
I was miserable and unhappy with my physical body.  I spent years praying and asking that I would love myself in my body and it just never happened; I could not accept and love my unhealthy body. You see, this has not been a lifelong struggle for me, in fact, I was super athletic growing up and maintained that into my early 30's.
Then my back became extremely problematic and I ended up going all the way to surgery, and in October of 2013, I had a spinal fusion at L5-S1.  Ultimately, what led me there was my history as a competitive gymnast, then having four babies. I successfully bounced back from all my babies, but I can honestly say now that I let my surgery be an excuse way too long.
Don't get me wrong, it WAS a major surgery, and the recovery was long and tedious, but I never bounced back from it. On the contrary, I slowly gained weight and became very unhealthy.
Not only was I unhappy with my physical appearance, but I was always tired, and it was hard to have the energy to keep up with all my kids! Several months ago, as I headed into work one morning, I was feeling particularly down, and I mentioned it to my husband.
He apologized and said he felt like it was probably his fault.  That really made me stop and think.  That day, I literally lost my mind!
 I broke down sobbing and finally admit to myself that my body was making me so unhappy that I was borderline depressed.
This was not his fault; he was not the root of my unhappiness. I also came to realize that, quite possibly, my unhappiness was spilling over into the rest of my life; work, kids, husband, etc.   I knew I had to make a change; a major one!
What my Hitch Fit journey has been like… 
Overall, the journey has been a great one; life changing! Albeit, I have had my struggles, and plenty of days have been difficult, to say the least.  That said, I've also had a lot of fun!
In the beginning, it was all about finding and exercising DISCIPLINE.  I had the plan laid out in front of me and I read it through multiple times before starting.  I made sure to prep; grocery shopping, setting up my gym, asking questions and letting my family and friends know I would love their support.  I followed the plan and did my cardio and workouts, got my meals in and began acquiring some supplements.
After a couple of weeks, I had a good rhythm going and the beginnings of some new healthy and fit HABITS.  Habits are so key because once a habit is formed, the tasks at hand become more automatic and require less thought. Now I was feeling DETERMINED!  I already had some losses both on the scale and the tape measure, despite my left arm starting to act up, and limiting what I could do strength-wise.
The discipline and determination I found early on now had me in a place where I was feeling very DRIVEN!
I was doing the work and it was paying off!  Life had already started throwing monkey wrenches into the plan, but I was succeeding anyway.  Even through outings to cheer competitions, uncontrolled environments such as potlucks, and an injured arm, I was making better choices!
By this time, I was really coming to grasp the nutrition side of the program as well and had begun enjoying a lot more variety in my meals! Side note, my post workout shakes have come to satisfy my sweet tooth!  They are just so yummy!
At this point, I feel like I'm on a roll…  Now I just had to continue being DILIGENT!  I would tell myself, "Don't get lazy or complacent! Get up, do your cardio, eat all your meals, workout!"  Kind of like Dory in Finding Nemo, "Just keep swimming, just keep swimming!"
Having diligence, day in and day out, the results just kept coming!  All this while still nursing an unhappy arm, getting COVID, losing our nine-year old chocolate lab Charlee, more cheer competitions and a knee injury for my older daughter!  Whew! I will tell you that I had some of my rougher days in this time frame and I was not 100% with my nutrition or working out, but I knew I could NOT beat myself up for it!  This was a journey and I was still going strong.
As I approached the end of my initial twelve-week program, I felt a strong sense of DEDICATION.
Dedication to the program, to myself and to making healthy and fit choices for the rest of my life.  It's also hard to explain how much better I feel!  I have so much energy and my enthusiasm has multiplied.
People are noticing not only the physical changes, but the mental changes as well; I've been told I literally look like I'm glowing!
Well, thank you world, I just feel great! I have accomplished much in this program, and I will accomplish even more moving forward!  I have not reached my goals yet, but I will!  Why?  Because I have the discipline, determination, drive, diligence and dedication needed to get there!
What I've learned…
I've learned to love myself again and I've learned how to take good care of my health and wellness.  I have become a master prepper and have literally prepped every container I have in my cabinet a couple of times!  I've learned that prepping makes the journey so much easier and is a paramount part of success.
I've learned how to workout again and that you don't need an expensive gym membership to do so. I have learned that I am strong and capable of succeeding even in difficult or unforeseen circumstances. Lastly, I've learned that I'm worth it!  I don't have to feel bad about investing time, money and energy in myself!  By being healthy, fit and happy, I will be better able to serve everyone around me!
Plans going forward…
In the immediate future, my plan is to do the bikini body program!  I've lost a lot of weight and inches, and now I would like to continue that and begin seeing the flattering muscle definition that I enjoyed in my younger years! After that, it's all about maintenance.  Remembering that I am healthy and fit, and my choices do and will reflect that!
Honestly, as a very young adult, I auditioned multiple times for the Broncos Cheerleading team, and I've had multiple thoughts flutter through my mind that I might give it one last try!  Maybe set a record and be the oldest woman ever to be an NFL cheerleader (or at least the oldest to ever audition)!
Advice for others…
The hardest part is getting started. JUST DO IT!  You are worth it, you are strong and you are capable of more than you know.  The Hitch Fit program works and is simple to learn and follow; just follow the road map.  If you need support, ask for it, and if you have questions, ask them!  Be honest with yourself about your body or how it truly makes you feel, then do something about it! Find your discipline, determination, drive, diligence and dedication.  They are there, it is up to you to find them!
Program Choice: Lose Weight