Sha'Ri lost 60 pounds | Black Weight Loss Success
Sha'Ri lost 60 pounds by transforming her eating habits and focusing on wellness after her fourth pregnancy. She also got her Master's in health and wellness and became a certified health coach/gut health expert.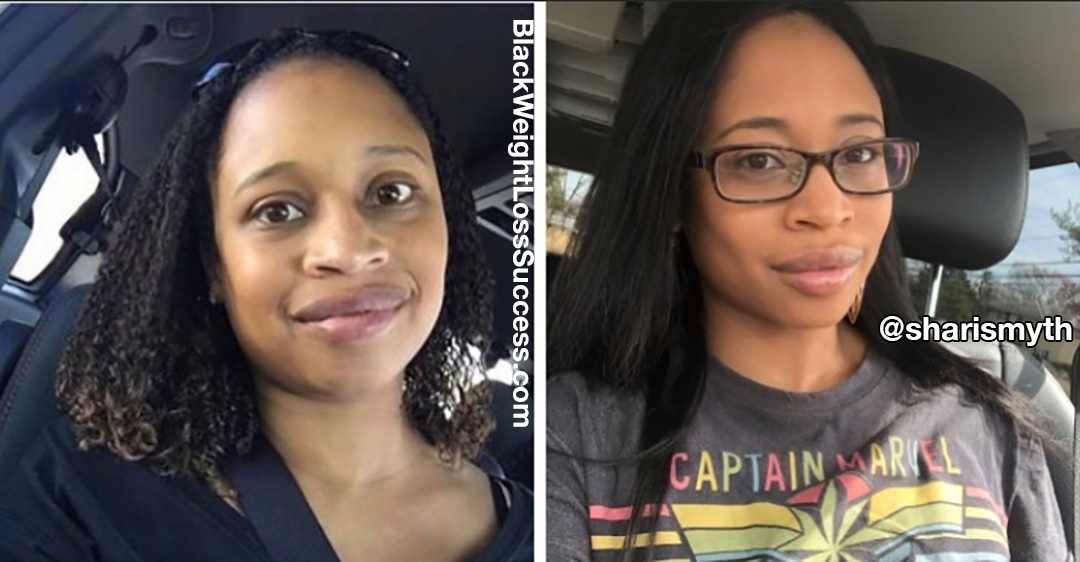 What was your motivation? What inspired you to keep going, even when you wanted to give up?
I was a 20-year-old single mother, and I struggled. Then was diagnosed with Lupus and given a year to live. I've been overweight, underweight, and had eating disorders. Not being able to recognize myself and wanting to make sure my kids saw the best version of me was my motivation. 
I went back to school, got my Master's in health and wellness, and became a certified health coach/gut health expert. I just recently became certified in environmental toxins. I'm in the second year of my PhD. 
When I feel like giving up, I remember there's someone that's where I was, and they need me to continue to know they can overcome whatever they are struggling with.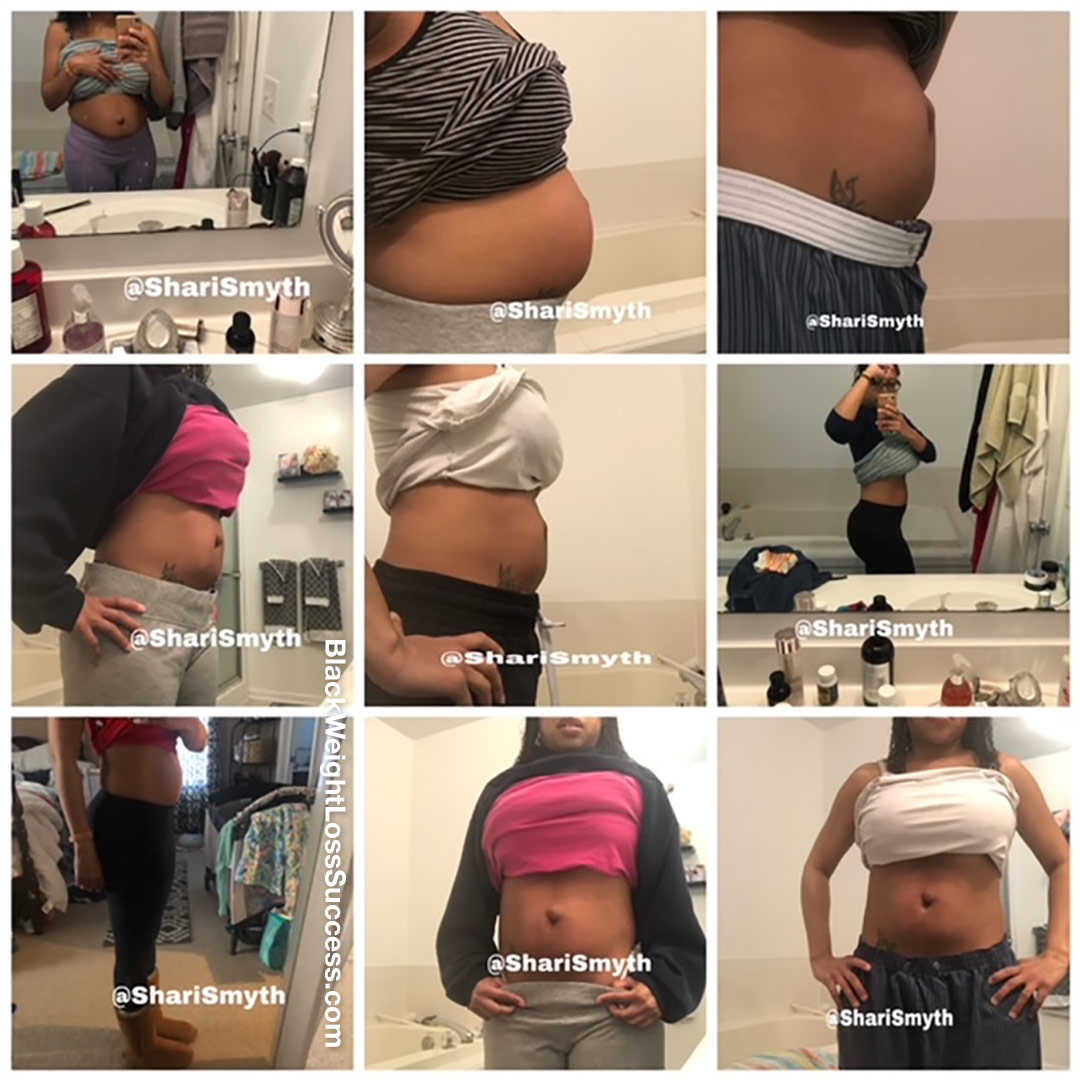 How did you change your eating habits?
I started listening to my body. A lot of people are quick to give up foods when our body needs certain things. As a woman of color, my goal was to recognize what I lacked and fix the damage I had done, and allowed diet culture to do to me. I gave up the things in my environment that were polluting my body. I temporarily cut back on carbs and sugars while I reset my body. Then I reintroduced them when my body was able to stay in fat-burning mode.
What did your workout routine consist of? How often did you work out?
I worked out maybe 5/6 times: once on my rowing machine the other times free weights. As a certified health coach and gut health expert, I understand how the body works and if you follow science you don't need to work out. Working out releases endorphins and can make you feel good but there are so many things it can't do, like reverse the damage on your liver, and organs and so much more. To be honest, I don't have the time with four kids, two businesses and getting my PhD. I will start strength training soon but the goal for me isn't to be ripped or skinny or have a six pack. It was to heal my toxic gut, get better sleep, gain energy, have clear skin, and come off medications and enjoy my food guilt free. I know that's not the typical answer you get but it's realistic for me and I want to encourage those that feel lost or like they can't commit to a crazy schedule.
What was your starting weight? What is your current weight?
This is my 4th pregnancy (the second pregnancy where I gained over 60lbs – After my third daughter, I reached my heaviest weight: 215 pounds). I weighed 185 pounds in the before, which was six weeks postpartum. In the after (85 days later), I weighed 132 pounds. Now, I am around 125 pounds. I don't weigh myself often because the number on the scale wasn't my goal. It was how I felt waking up, if my skin was clear, and if I didn't have dry skin. I focus on my gut health.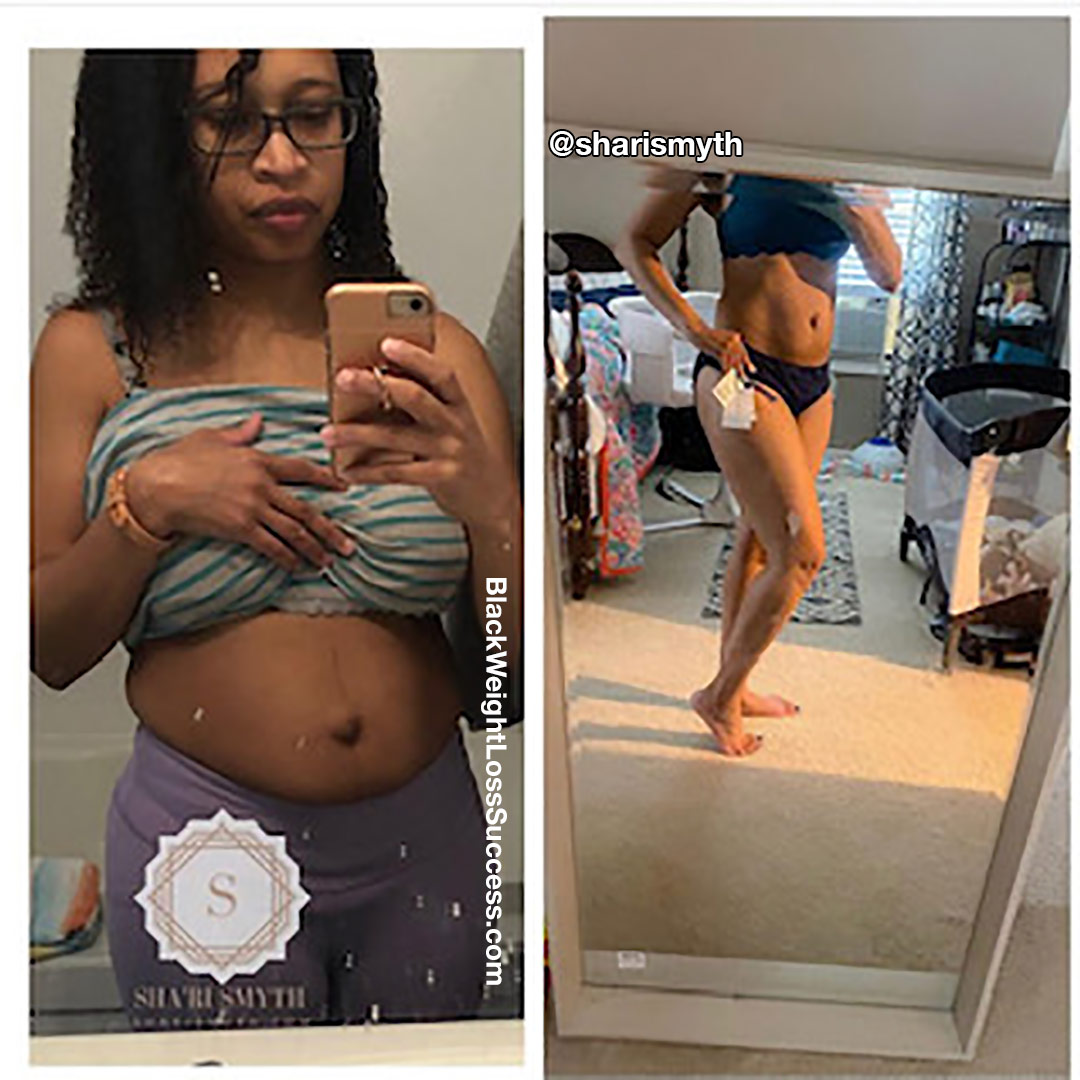 What is your height?
5'3"
When did you start your journey? How long did your transformation take?
The body photo was 2.5 months postpartum after my 4th (I've also had five miscarriages) to 4 months postpartum. The face photo was nine months postpartum with my third to eight months later.
What is the biggest lesson you've learned so far?
Fads, gimmicks, quick fixes are temporary, and diet has the word die in it for a reason. True health lies in your gut. 
You are capable and stronger than you give yourself credit. Coming off of a death sentence and 13 prescriptions, and three anti-depressants isn't easy, but it's worth it. Your life is worth it. Even on your worst day, someone more deserving didn't wake up, and that proves there's a purpose for your life. Stop quitting, stop giving up and keep fighting. 
What advice do you have for women who want to lose weight?
Stop focusing on the weight. Love yourself right where you are. No matter what the scale says, if you don't love yourself, you won't appreciate yourself at any size. You can't expect anyone to love you because you teach people how to do that.