Tyreashia lost 52 pounds | Black Weight Loss Success
Transformation of the Day: Tyreashia lost 52 pounds. In 2019, her life hit a rough patch that led to depression, isolation, emotional eating, and weight gain. In October 2019, she fully committed to changing her life. Now, she's a certified personal trainer. She shared with us how she transformed with fitness, healthy food, and consistency.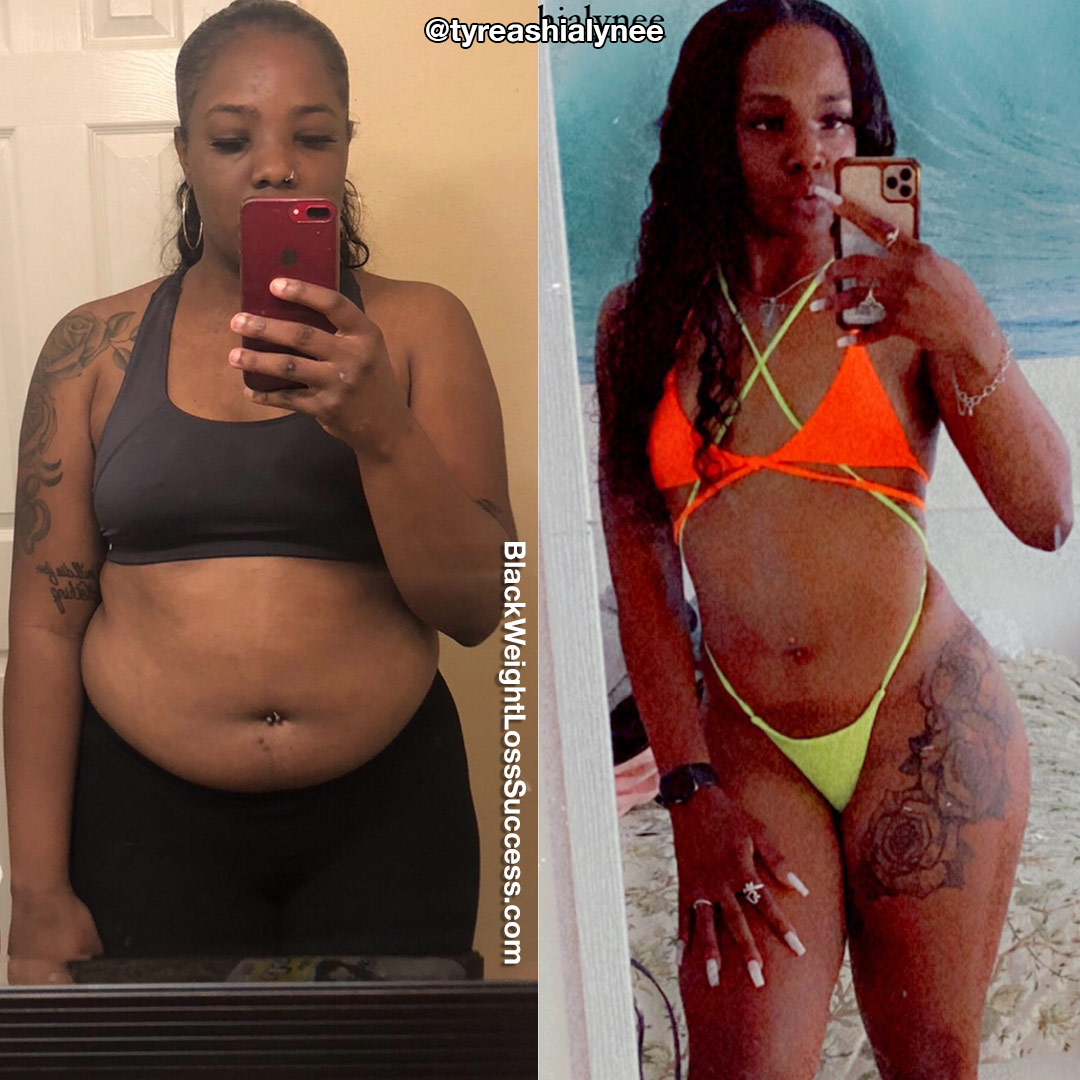 Throughout my life, I was always a pretty decent size for my height until 2018, when my weight fluctuated. I'd gain weight and lose weight, no big deal. Going into 2019, I was more on the heavier size. (I don't know the exact weight.) Throughout 2019, I went through a lot. I was alone, and I didn't feel like myself at all for months. Literally, I didn't go out, didn't talk to anyone, and didn't return calls. I was going through a rough patch, if you will. 
Never once had I ever doubted the seriousness of depression. Ever. But to actually experience it is draining and unhealthy. For those few months, I had an extremely unhealthy relationship with my health and my body. All I did was Eat, Eat, and Eat some more. Then I'd sleep a little and eat again. 
Eventually, I knew it was becoming too much because I'd sit and think about all I had eaten in a day and be like, "Oh wow." Then I'd do it again the next day. Finally, my eating habits and drinking got the best of me. I was aware that I had gotten bigger because I was buying new clothes ALL the time.
On October 9, 2019, I decided to start my fitness journey at 217 pounds, and I took it seriously. I worked out Monday – Friday. I ate right and rarely had cheat meals. I continued this routine for five months, and I was consistent.
Covid-19 came around putting everyone in lockdown, but I kept working out. People showed interest in my journey, so I took that "down" time and got certified as a Personal Trainer. 
I got down to 160 pounds, maybe a little lower. Currently, I weigh 175 pounds. (217 lbs to 165 lbs). I'm still working hard and chasing my dreams. Consistency will get you there. I give all Glory to God for helping me out of that dark hole.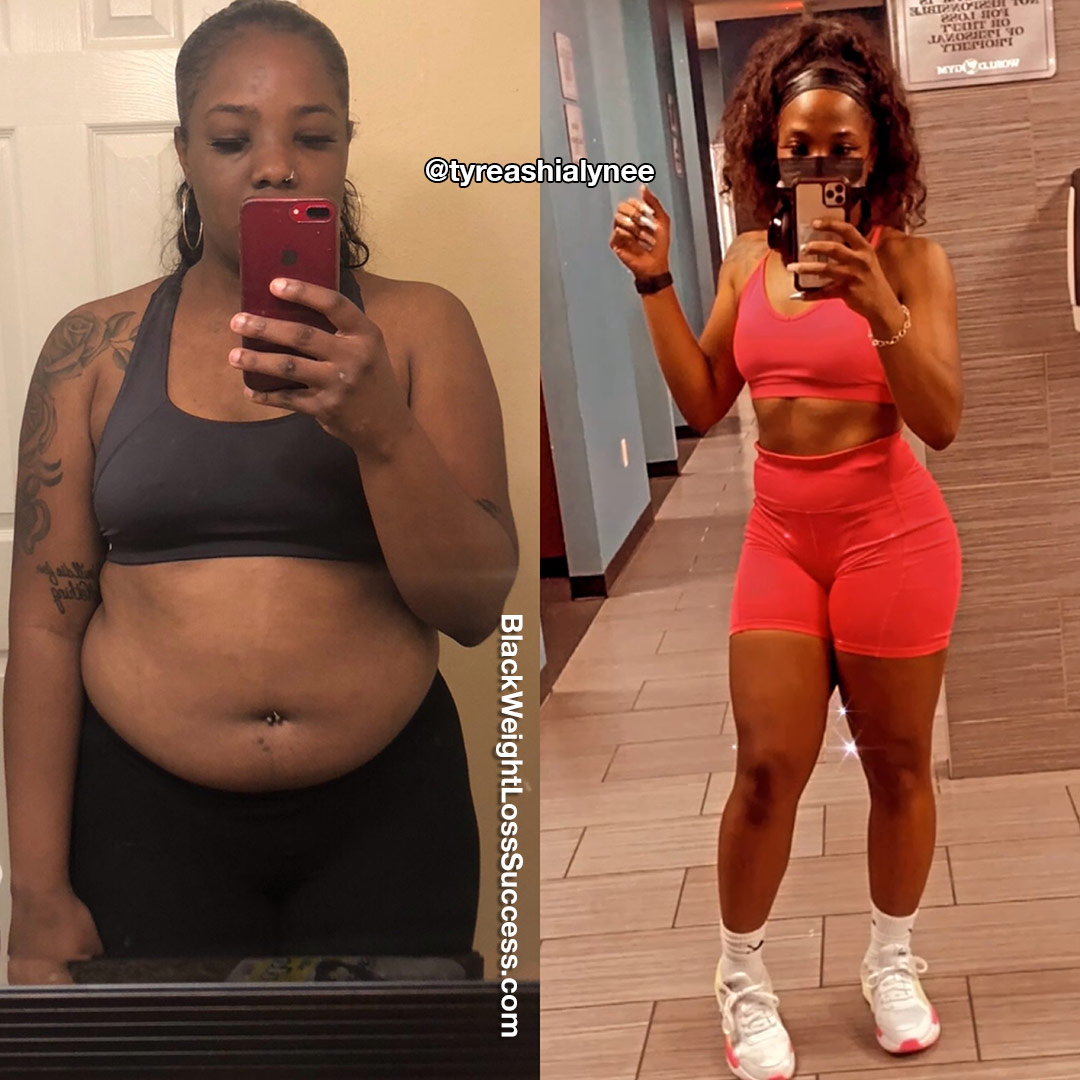 What was your motivation? Throughout my journey, my goals and wanting better for myself caused me to keep going. There were days when I just wanted to completely give up due to lack of motivation, but you cant always expect to be motivated. You have to remember your WHY. (Why did you start? Why are you doing this? WHAT WILL THE OUTCOME BE?)
How did you change your eating habits?
To change your eating habits, you have to first tell yourself that you CAN do this. It will be a challenge, but you can do it. The way I began was taking things away one at a time. So I started with no bread for a week! But, I was still having my fried foods &/or sodas. The following week, I did no bread AND no sodas. But I still had my sweets etc. I continued this process until I removed the things that weren't benefitting me. 
You HAVE to want it! Get creative with your meals or be simple. My quick go-to for lunch was Jasmine rice, broccoli, and grilled/baked chicken. For dinner, I'd have ground turkey, sweet potatoes, and green beans. Nice & simple. For each meal, try to have some kind of veggie and protein.
Tell us more about your workout routine.
When I started, I started by going HARD! No slacking! I worked out for at least an hour Mon/Fri. Sometimes I even did Saturday boot camps. Sundays are always my rest days. Throughout my journey, I did HIIT workouts, home workouts, weight training… all of it!
Fitness is not just a hobby for me. It's a lifestyle. It's something I picture myself doing throughout the rest of my life. Working out is therapeutic, and it's beneficial to the body. Health is Wealth, and I honestly don't see myself quitting!
What is your height?
I am 5'6″/5'7″
How long did your transformation take?
Overall I've been on my self-love journey for about a year and a half. I've grown from being insecure and lacking confidence (because of my back fat, love handles, and stomach) to being confident and feeling/looking good! 
Is weight loss surgery part of your journey?
No surgeries. Just a strong mind and some hard work. 
What is the biggest lesson you've learned so far?
The biggest lesson I've learned is that you have to believe in yourself, be patient, be consistent and TRUST THE PROCESS. When you feel like you're going hard, GO HARDER!
What advice would you like to share?
The most important factor throughout your fitness journey is NUTRITION. Change up your eating habits. It will be worth it. Find a workout split that works for you but aim for at least 3x a week. 
Now it's YOUR turn. Start To Believe. Start To Work For It. 
It WILL come.
Instagram: @tyreashialynee